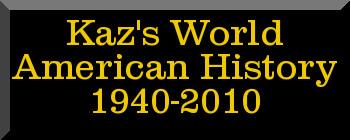 1940-1950

1940: Americans elect President Franklin Roosevelt.Adolf Hitler's Nazis build Auschwitz. Radar and nylon stockings arrive. In Seattle, Pio de Cano successfully challenges a 1921 Alien Land Law forbidding Filipino-Americans from owning land. Lake Washington Floating Bridge opens, while Tacoma's Narrows Bridge falls in a windstorm.

1941: Japan attacks Pearl Harbor. U.S enters World War II. In Seattle "sailors on horseback," ex-cow hands, stunt men and blacksmiths, saddle up and ride Washington's shores as armed beach patrols for the Coast Guard.

1942: Battle of Midway turns the Pacific tide. Nazis "clear" Warsaw's Jewish ghetto. U.S. and Canada send Japanese citizens to internment camps. In Seattle, a shortage of wartime steel causes residents to reuse their license plates.

1943: Eisenhower named Supreme Allied Commander. Italians topple Mussolini. In Seattle, moviegoers love the ancestor of TV cable news as the "Telenews" theater at Third and Pike shows only war newsreels.

1944: Roosevelt is elected fourth time. Allies invade Normandy. DNA is discovered. In Seattle, Colman Swimming Pool at Lincoln Park is integrated after UW African-Americans demonstrate.

1945: Roosevelt dies, replaced by Harry Truman. U.S. drops A-bombs on Hiroshima and Nagasaki, ending World War II. The United Nations is formed. George Orwell writes "Animal Farm." In Seattle, an earthquake shakes Puget Sound.

1946: Winston Churchill warns of Communist "Iron Curtain," while the Nuremberg Trials begin. French battle Ho Chi Minh in Vietnam. Bikinis catch the nation's fancy. In Seattle, Asian- and African-American communities form Jackson Street Community Council. Former Seattleite Mother Frances Xavier Cabrini becomes the first American saint.

1947: The Marshall Plan announced. A radar beam is sent to the moon, and the first TV broadcast is demonstrated. Washington's Legislature passes the Un-American Activities Bill.

1948: Truman re-elected. Berlin airlift began. Mahatma Gandhi"> assassinated. In Seattle, Frederick & Nelson unveiled television for the first time.

1949: NATO born.Soviets detonate an atom bomb. The Chinese People's Republic created. Carbon 14 dating found. CIA begins experimenting with LSD. A 7.1 earthquake strikes Seattle, the largest since non-Indians settled here.



===========================


1950: United States enters Korean War on June 27; Joseph L. Hendricks Jr., 18, is the first Seattle-area war casualty. President Truman survives assassination in a White House shootout.

1951: Truman removes Gen. Douglas MacArthur from the war hero's Korean command. Newspaper publisher William Randolph Hearst, whose interests include the P-I, dies at 88. Seattle's first Gold Cup hydroplane race ends in tragedy: Quicksilver driver and mechanic killed in crash.

1952: Richard Nixon, seeking the vice presidency under Dwight Eisenhower, is forced to explain supplemental income received as a California senator. England's King George VI, 56, dies, is replaced by his daughter, Elizabeth, 25. Seattle celebrates its centennial.

1953: Joseph Stalin dies in Moscow at 73. Korean War armistice signed in July. New York engineer Julius Rosenberg and his wife, Ethel, electrocuted for passing atomic secrets to Soviet Union. Four inmates shot, one fatally, and five buildings burned during Monroe prison riot.

1954: Communist-hunter Joe McCarthy takes on U.S. Army and Eisenhower administration; he loses. Five congressmen wounded when Puerto Rican militants open fire on the House floor. Joe DiMaggio walks out on wife Marilyn Monroe. Dick's Drive-in opens in Seattle.

1955: Eisenhower suffers first of two heart attacks. Inmates riot in Walla Walla, hold seven prison guards hostage. In Seattle, 22,000 schoolchildren receive first-ever polio inoculations.

December 1, 1955 in Montgomery, Alabama,Rosa Parks, a black woman age 42, refused to obey bus driver James Blake's order that she give up her seat to make room for a white passenger. Her action was not the first of its kind.

1956: Boeing founder William E. Boeing Sr., 74, dies of heart attack. A two-year probation and $52,000 fine are levied against the UW Huskies for paying players, a practice uncovered when coach John Cherberg is fired.

1957: Russians launch Sputnik I. Nine black students are escorted to class by Army paratroopers, integrating Little Rock, Ark., high school. McCarthy dies of liver disease at 47. Floyd Patterson/Pete Rademacher fight ends with sixth-round Patterson knockout before 16,961 fans at Sicks' Stadium.

1958: Pope Pius XII, 82, dies in Italy, is succeeded by John XXIII. The United States launches a satellite into space. In Moscow, UW rowers upset world championship crew from Leningrad. Alaska becomes 49th state.

1959: Columbia University assistant professor and TV idol Charles Van Doren admits his answers are rigged on the quiz show "Twenty-One." In a second Monroe prison uprising, 40 people are taken hostage at knifepoint by inmates.



=================


1960::
Alfred Hitchcock's Psycho Released
Brazil's Capital Moves to Brand New City
First Televised Presidential Debates Kennedy/Nixion
Lasers Invented


1961::
Adolf Eichmann on Trial for Role in Holocaust
Bay of Pigs Invasion
Berlin Wall Built
Peace Corps Founded
Soviets Launch First Man in Space

1962::
Andy Warhol Exhibits His Campbell's Soup Can
Cuban Missile Crisis
First Person Killed Trying to Cross the Berlin Wall
Marilyn Monroe Found Dead
Rachel Carson Publishes Silent Spring

1963::
Betty Friedan Publishes The Feminine Mystique
President John F Kennedy Assassinated
Lyndon B Johnson is sworn is as President.
Martin Luther King Jr. Makes His "I Have a Dream" Speech

1964::
The Beatles Become Popular in U.S.
Cassius Clay (a.k.a. Muhammad Ali) Becomes World Heavyweight Champion
Civil Rights Act Passes in U.S.
Hasbro Launches GI Joe Action Figure
Nelson Mandela Sentenced to Life in Prison
Warren Report on JFK's Assassination Issued

1965::
Japan's Bullet Train Opens
Los Angeles Riots
Malcolm X Assassinated
New York City Great Blackout
U.S. Sends Troops to Vietnam

1966::
Black Panther Party Established
Mao Zedong Launches the Cultural Revolution
Mass Draft Protests in U.S.
Star Trek T.V. Series Airs

1967::
Australian Prime Minister Disappears
Che Guevara Killed
First Heart Transplant
First Super Bowl
Six-Day War in the Middle East
Stalin's Daughter Defects
Three U.S. Astronauts Killed During Simulated Launch

1968::
Martin Luther King Jr. Assassinated
My Lai Massacre
Prague Spring
Robert F. Kennedy Assassinated
Tet Offensive

1969::
ARPANET, the Precursor of the Internet, Created
Charles Manson and "Family" Arrested
Neil Armstrong Becomes the First Man on the Moon
Rock-and-Roll Concert at Woodstock
Senator Edward Kennedy Leaves the Scene of an Accident


=============================



1970::
Aswan High Dam Completed
Beatles Break Up
Computer Floppy Disks Introduced
Palestinian Group Hijacks Five Planes
Kent State Shootings


1971::
London Bridge Brought to the U.S.
United Kingdom Changes to Decimal System for Currency
VCRs Introduced


1972:
M*A*S*H T.V. Show Premiers
Mark Spitz Wins Seven Gold Medals
Pocket Calculators Introduced
Terrorists Attack at the Olympic Games in Munich
Watergate Scandal Begins

1973::
Abortion Legalized in U.S.
Paul Getty Kidnapped
Sears Tower Built
U.S. Pulls Out of Vietnam
U.S. Vice President Spiro Agnew Resigns


1974::
Halie Selassie, Emperor of Ethiopia, Deposed
Mikhail Baryshnikov Defects
Patty Hearst Kidnapped
Terracotta Army Discovered in China
U.S.President Richard M Nixon Resigns
Gerald R Fordsworn in as President
1975::
Arthur Ashe First Black Man to Win Wimbledon
Civil War in Lebanon
Microsoft Founded
Pol Pot Becomes the Communist Dictator of Cambodia

1976::
Nadia Comaneci Given Seven Perfect Tens
North and South Vietnam Join to Form the Socialist Republic of Vietnam
Tangshan Earthquake Kills Over 240,000

1977::
Elvis Presley Found Dead
Miniseries Roots Airs
South African Anti-Apartheid Leader Steve Biko Tortured to Death
Star Wars Movie Released

1978::
First Test-Tube Baby Born
John Paul II Becomes Pope
Jonestown Massacre

1979::
Ayatollah Khomeini Returns as Leader of Iran
Iran Takes American Hostages in Tehran
Margaret Thatcher First Woman Prime Minister of Great Britain
Mother Theresa Awarded the Nobel Peace Prize
Nuclear Accident at Three Mile Island
Sony Introduces the Walkman



==========================


1980::
Failed U.S. Rescue Attempt to Save Hostages in Tehran
John Lennon Assassinated
Mount St. Helens Erupts
Rubik's Cube Becomes Popular
Ted Turner Establishes CNN

1981::
Assassination Attempt on the Pope
Assassination Attempt on U.S. President Reagan
First Woman Appointed to the U.S. Supreme Court Sandra Day O"Conner
Millions Watch Royal Wedding Of Charles And Diana on T.V.
New Plague Identified as AIDS
Pac-Man is Extremely Popular
Personal Computers (PC) Introduced by IBM

1982::
E.T. Movie Released
Falkland Islands Invaded by Argentina
King Henry VIII's Ship the Mary Rose Raised After 437 Years
Michael Jackson Releases Thriller
Reverend Sun Myung Moon Marries 2,075 Couples at Madison Square Garden, New York City

1983::
Cabbage Patch Kids are Popular
Reagan Announces Defense Plan Called Star Wars
Sally Ride Becomes the First American Woman in Space
Soviets Shoot Down a Korean Airliner
U.S. Embassy in Beirut Bombed

1984::
Huge Poison Gas Leak in Bhopal, India
Indira Gandhi, India's Prime Minister, Killed by Two Bodyguards
PG-13 Movie Rating Created
Vietnam War Memorial Opened in Washington, DC

1985::
Famine in Ethiopia
Hole in the Ozone Layer Discovered
Mikhail Gorbachev Calls for Glasnost and Perestroika
New Coke Hits the Market
Wreck of the Titanic Found

1986::
Challenger Space Shuttle Explodes
Chernobyl Nuclear Accident
Ferdinand Marcos Flees the Philippines
Iran-Contra Scandal Unfolds
U.S. Bombs Libya
U.S.S.R. Launches Mir Space Station

1987::
DNA First Used to Convict Criminals
Klaus Barbie, the Nazi Butcher of Lyons, Sentenced to Life in Prison
New York Stock Exchange Suffers Huge Drop on "Black Monday"
West German Pilot Lands Unchallenged in Russia's Red Square

1988::
Pan Am Flight 103 Is Bombed Over Lockerbie Scotland
U.S. Shoots Down Iranian Airliner

1989::
Berlin Wall Falls
Exxon Valdez Spills Millions of Gallons of Oil on Coastline of Alaska
Students Massacred in China's Tiananmen Square
U.S. President Bush Announces That He Doesn't Like Broccoli


==========================



1990::
Hubble Telescope Launched Into Space
Lech Walesa Becomes First President of Poland
Nelson Mandela Freed

1991::
Bronze Age Man Found Frozen in Glacier
Collapse of the Soviet Union
Operation Desert Storm
South Africa Repeals Apartheid Laws

1992::
Official End of the Cold War
Riots in Los Angeles After the Rodney King Verdict

1993::
Cult Compound in Waco, Texas Raided
Use of the Internet Grows Exponentially
World Trade Center Bombed

1994::
Channel Tunnel Opens, Connecting Britain and France
Lorena Bobbit Takes Brutal Revenge On Her Husband
Nelson Mandela Elected President of South Africa
O.J. Simpson Arrested for Double Murder
Rwandan Genocide Begins

1995::
Ebola Virus Spreads in Zaire
Gas Attack in Tokyo Subway
Oklahoma City Bombing
Yitzhak Rabin Assassinated

1996::
Mad Cow Disease Hits Britain
Two Royal Divorces
Unabomber Arrested

1997::
British Au Pair on Trial for Murder
Hale-Bopp Comet Visible
Hong Kong Returned to China
Pathfinder Sends Back Images of Mars
Princess Diana Dies in Car Crash
Scientists Clone Sheep
Tallest Buildings in the World Built in Kuala Lumpur
Tiger Woods Wins Masters

1998::
India and Pakistan Test Nuclear Weapons
Titanic Most Successful Movie Ever
U.S. President Clinton Impeached
Viagra on the Market

1999::
The Euro the New European Currency
Fear of Y2K Bug
John F Kennedy Jr. Dies in Plane Accident
Killing Spree at Columbine High School
NATO Attacks Serbia
Panama Canal Returns to Panama


=======================





The 2000's - The War on Terrorism


2000::
April 3, 2000 - The ruling in the case of the United States versus Microsoft states that the company did violate anti-trust laws by diminishing the capability of its rivals to compete.

June 1, 2000 - For the first time since 1851, the United States of America does not participate in a major World's Fair, the Hannover 2000 World Expo, despite a record number, 187, of international participants.

President Bill Clinton had withdrawn U.S. participation late in 1999 after agreement to participate in 1997.

Congressional apathy toward participation in world events continues a decline in U.S. involvement after the fall of the Soviet Union and victory in the Cold War. A consequence of this policy has led to a rise, among some experts, of anti-American sentiment, and a decline of U.S. influence in diplomatic affairs.

Less than half, 18.1 million, of the original attendance estimate, 40 million, visit Hannover's event.

November 7, 2000 - George W. Bush, son of the former President, and Vice President Al Gore hold a virtual dead-heat for the presidency, with a disputed vote in Florida holding off the naming of the winner of the President Election until the Supreme Court of the United States voted in favor of Bush on December 12. This ruling gave Florida to the Bush camp by a 527 vote majority, and a victory in the Electoral College, 271-266, despite gaining less popular votes than Gore.

November 7, 2000 - Hillary Rodham Clinton wins a seat for the United States Senate from New York. It is the first time a former FIrst Lady wins public office.

December 28, 2000 - Montgomery Ward, the retail giant since its founding one hundred and twenty-eight years before, announces its intention to cease business. Competition from newer, low-cost retail behemoths such as Wal-Mart lead to its demise.

The 2000 census enumerates a population of 281,421,906, increasing 13.2% since 1990. As regions, the South and West continued to pick up the majority of the increase in population, moving the geographic center of U.S. population to Phelps County, Missouri.

2001::
January 6, 2001 - Certification of the Electoral College victory of the 2000 United States Presidential election in the U.S. Senate confirms George W. Bush as the victor, with Dick Cheney as his Vice-President.

April 1, 2001 - China-U.S. incident. An American spyplane collides with a fighter plane of China and makes an emergency landing in Hainan, China. The U.S. crew is detained for ten days.

April 8, 2001 - Tiger Woods becomes the first golfer to hold all four major golf titles simulteneously by winning the Master's tournament in Augusta, Georgia. This followed a remarkable run in 2000 when Woods claimed victory at the final three majors of that season; the U.S. Open, the British Open, and the PGA Championship.

September 11, 2001 - Islamic fundamentalist terrorists hijack four U.S. airliners and crash them into the Pentagon and the World Trade Center in New York City. The attack of two planes levels the World Trade Center and the crash of one plane inflicts serious damage to the Pentagon in Arlington, Virginia, causing nearly 3,000 deaths. The fourth plane is heroically crashed by passengers into a Shanksville, Pennsylvania cornfield when they learn of the plot, preventing destruction of another structure in Washington, D.C., supposed to be the White House or the Capitol building. The plot is attributed to the Al-Qaeda organization led by Osama Bin Laden.

September 18, 2001 - Anthrax attacks by mail from Princeton, New Jersey against news and government targets begin. Federal officials announce the first case on October 4.

October 7, 2001 - In response to the tragedy of September 11, the United States military, with participation from its ally the United Kingdom, commence the first attack in the War on Terrorism on the Taliban and Al-Qaeda in Afghanistan. By November 12, the Taliban government leaves the capital, Kabul.

2002::
February 8, 2002 - Amid tight security due to terrorism concerns, the Winter Olympic Games are opened by President George W. Bush in Salt Lake City, Utah. They would continue without major incident until the closing ceremony on February 24.

May 21, 2002 - The United States State Department issues its report in the War on Terror. It states that there are seven nations that a State-Sponsors: Iran, Iraq, Cuba, Libya, North Korea, Sudan, and Syria.

July 5, 2002 - Continuing its pattern of the past several years, Iraq refuses new proposals from the United Nations concerning weapons inspections. The inspections were part of the cease-fire agreement and terms of surrender in the 1991 Gulf War. On September 12, U.S. President George Bush addresses the United Nations and warns the members that Iraq presents a grave danger to the world that they must confront, or that the United States and others will act unitarilly. On October 2, 2002, the United States Congress passes a resolution giving the President of the U.S. the authority to use the military forces of the country as he thinks necessary.

November 8, 2002 - The United Nations passes Resolution 1441 in a unanimous Security Council vote. It forces Saddam Hussein and Iraq to disarm or face serious consequences.

November 21, 2002 - NATO invites additional members of the former Soviet bloc to join its membership. Seven nations are included in the invitation; Bulgaria, Estonia, Latvia, Lithuania, Romania, Slovakia, and Slovenia.

2003::
February 1, 2003 - A tragedy at NASA occurs when the Space Shuttle Columbia explodes upon reentry over Texas. All seven astronauts inside are killed.

March 19, 2003 - The War in Iraq begins with the bombing of Baghdad after additional measures and mandates from the United Nations and the United States coalition fail to gain concessions or the removal of Saddam Hussein from power. The U.S. coalition, upon failure to extract authority from the U.N. for action due to the veto power of France, begin land operations one day later with participation from U.S., British, Australian, and Polish troops.

April 9, 2003 - The U.S. coalition siezes control of Baghdad in the Iraq conflict.

July 2, 2003 - The International Olympic Committee votes in Prague that the Winter Olympic Games are coming back to North America, selecting Vancouver, Canada as host of the XXI Olympic Games in 2010.

December 13, 2003 - Saddam Hussein, former leader of Iraq, is captured in a small bunker in Tikrit by the U.S. 4th Infantry Division.

2004::
February 3, 2004 - The Central Intelligence Agency admits that the imminent threat from weapons of mass destruction was not present before the 2003 Iraq war began.

March 2, 2004 - Mars rover MER-B (Opportunity) confirms to NASA that the area of their landing was once covered in water.

July 4, 2004 - The groundbreaking ceremony for the Freedom Tower at Ground Zero, the former site of the World Trade Center complex destroyed during the September 11, 2001 attacks, occurs in New York City.

November 2, 2004 - President George W. Bush wins reelection over Democratic Senator John Kerry from Massachusetts. He wins 50.7% of the popular vote and 286 votes in the Electoral College.

December 26, 2004 - The southeast Asian tsunami occurs following a 9.3 Richter scale earthquake in the Indian Ocean. Two hundred and ninety thousand people die from Sri Lanka to Indonesia, creating one ot the greatest humanitarian tragedies in history. A worldwide relief effort, led by the United States and many other nations, is mobilized to assist.

2005::
May 31, 2005 - After more than thirty years in suspense, the identity of Deep Throat, the contact for reporters Woodward and Bernstein in the uncovering of the Watergate scandal, is revealed when W. Mark Felt, the second in command at the CIA at the time, confirms that he was their contact.

July 24, 2005 - American cyclist Lance Armstrong wins his record 7th straight Tour de France.

July 26, 2005 - In the first Space Shuttle flight since the tragedy of 2003, Discovery goes into orbit on a mission that returns to earth safely on August 9.

August 29, 2005 - Hurricane Katrina strikes the Gulf Coast, inundating the city of New Orleans with water from Lake Pontchetrain when the levees that maintain the below sea level city break. Over one thousand three hundred people perish from Alabama to Louisiana in one of the worst natural disasters to strike the United States.

October 26, 2005 - The War of Terror continues. With elections in Iraq to confirm a new constitution vying with internal terrorism amid the U.S. military presence on October 15, eleven days later a statement from the Iranian President, Mahmoud Ahmadinejad, calls for the destruction of Israel and condemns the peace process.

Damage across the Gulf Coast of the United States after Hurricane Katrina.

2006::
February 22, 2006 - In a continuing shift of the retail industry to new platforms, the one billionth song is downloaded from the internet music store, Apple iTunes. This shift comes at the expense of many brick and mortar chains, including Tower Records.

September 25, 2006 - In New Orleans, the Louisiana Superdome reopens after repairs caused by Hurrican Katrina damage. The repairs included the largest reroofing project in U.S. history and took thirteen months following the destruction to the Gulf Coast region.

October 17, 2006 - The population of the United States reaches the milestone of three hundred million, taking only forty-two years to gain one hundred million people since the two hundredth million person was added in 1964. At the same time, a vibrant debate on immigration policy, particularly illegal immigration, ensues across the nation.

November 7, 2006 - In the mid-term elections, both houses of Congress change back to Democratic hands for the first time since 1994. This is seen as a referendum by many on the Iraq policy of the Bush administration as well as personal Republican scandals among some House and Senate members.

December 1, 2006 - United States manufacturing capacity and esteem wanes, signalled by the sale of the last shares of his General Motors stock by U.S. billionaire Kirk Kerkorian.

2007::
January 4, 2007 - The first female speaker of the U.S. House of Representatives, Representative Nancy Pelosi of San Francisco, California, is sworn into office.

January 10, 2007 - President George W. Bush announces a troop surge of 21,500 for the war in Iraq to stem the violence at the request of new commander General Petreus. This controversial policy begins to show positive signs once fully implemented during the summer months, with a reduction in violent attacks against coalition forces and Iraqi civilians. Progress on the political front within the Iraqi national government, however, does not keep pace with positive developments on the military front.

June 2, 2007 - A terror plot to blow up JFK International Airport in New York City is thwarted when four terrorists are arrested and charged with its plan.

July 4, 2007 - The fifty star flag of the United States of America becomes the longest flying flag in history after flying over forty-seven years.

December 13, 2007 - The Mitchell Report on the Steroids Scandal in baseball is published. It recounted a year long investigation into the use and abuse of performance enhancing drugs over a two decade period, including steroids and human growth hormone. Nearly ninety players were named, and blame for the scandal was spread among players, the union, and the commissioner's office. Headed by former Senator George Mitchell, the report urged enhanced testing to stem the problem and a look forward attitude to restore the integrity of the game and its statistics. The report comes after a season when Barry Bonds broke the home run record of Hank Aaron amid suspicion of steroid use.

2008::
July 1, 2008 - A report by the U.S. embassy in Iraq states that 15 of the 18 goals set for the Iraqi govermnent have been met, largely due to the surge implemented over the last year. The increase of 21,000 United States troops, commonly known as the surge, reduced violence and restored order to the nation, allowing the government of Iraq to focus more on solving other problems needed to establish a stable nation.

August 17, 2008 - Michael Phelps, the United States swimmer from Baltimore, wins his 8th Gold Medal of the Beijing Summer Olympic Games, surpassing the record of seven won by Mark Spitz.

August 29, 2008 - John McCain chooses Sarah Palin, 1st term Governor of Alaska, as his running mate, making the contest between Barack Obama and himself, the first time a presidential election included both an African-American candidate and a woman amongst the Presidential and Vice Presidential nominees for president among the Democratic and Republican tickets.

October 3, 2008 - The United States Congress passes legislation, signed by President Bush, for a $700 billion bailout, the Emergency Economic Stabilization Act, giving the Treasury Department authority to assist distressed Wall Street and banking businesses of the United States due to the housing, banking, and subprime mortgage crises caused by excessive greed and speculation among Wall Street firms. This economic distress, coupled with oil prices above $140 per barrel during the summer, deepened the world economic crises that had been brewing all year. The bailout was supported by current President George W. Bush and both presidential candidates, Barack Obama and John McCain.

November 4, 2008 - Barack Obama, Democratic Senator from Illinois, the land of Abraham Lincoln, wins a landslide margin in the Electoral College, 365 to 173 in the election for the 44th President of the USA over John McCain, making him the first African-American president in the history of the United States of America.

44th President of the United States, Barack Obama.

2009::
January 20, 2009 - Barack Obama takes the oath of office for President of the United States, becoming the first African-American president in the history of the nation. The Democratic Senator from Illinois comes into the office on a message of Change. The city of Washington, D.C. hosts more than one million visitors to the inauguration, covering the National Mall in a way reminiscent of the Civil Rights March of Martin Luther King forty-six years earlier.

April 15, 2009 - After a succession of big government spending projects beginning in the Bush administration and expanded under President Obama, 750 grass roots Tea Party protests spring up across the nation. More than one half million citizens concerned with increased deficits due to such actions such as the bailout of the banking industry, car industry, potential cap and trade legislation, and other administation projects that project a ten trillion dollar deficit over the next decade take part.

June 1, 2009 - The H1N1 virus, named the Swine Flu, is deemed a global pandemic by the World Health Organization. This is the first such designation since the Hong Kong flu in 1967-1968.

October 31, 2009 - The economic recession continues to deepen as jobless claims climb above 10.0%, reaching 10.2% with October's monthly figures. This occurs despite efforts by the Obama administration to ramp up massive government spending pushed by the $780 billion economic stimulus package passed earlier in the year.

December 1, 2009 - President Obama announces a surge of 30,000 additional troops to Afghanistan to stem increased efforts by the Taliban in the country. The surge, which was suggested by military officers, was not popular with the liberal base of the Democratic party which had put the President in power on a pledge to end both Middle Eastern wars. The war in Afghanistan, which started as a response to the terror attacks on 9/11/2001, and the war on terror in general, comes into focus again on December 25 when an airliner headed for Detroit is attacked by a Muslim extremist, 23-year-old Umar Farouk AbdulMutallab, who attempts to detonate a bomb, but fails.
=============================
Kaz's World